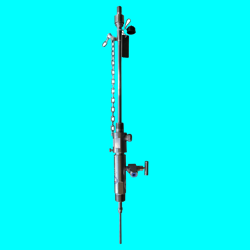 Saf-T-Vise Corrosion Monitoring Probes
Sentry Saf-T-Vise probes are for applications that need continuous or one-time corrosion monitoring. An electrical resistance (ER) probe measures two types of corrosion, electrochemical and mechanical while a linear polarization resistance (LPR) probe measures the electrochemical corrosion.
The corrosion probes work best in environments that have poor or non-continuous electrolytes, such as vapors, gases, soils, wet hydrocarbons and nonaqueous liquids.

The Saf-T-Vise STV-ER and STV-LPR probes offer a unique, patented safety feature : an easy-to-use collet that locks the shaft within the process stream in both low and extremely high-pressure conditions. The probes are easy to insert and remove from a pressurized pipeline without interruption of the system. The Saf-T-Vise probes may be installed permanently to provide continuous information or portable to gather on-demand data from multiple locations.
To avoid corrosion and equipment damage and enable accurate monitoring, Saf-T-Vise has a materials certification and test summary to confirm the product's materials.
The corrosion probes can mount in any orientation at a variety of extension lengths up to 20 feet to reach locations that are difficult to access.
The components are tested at safety pressure 1.5x the operating pressure to comply with PHMSA regulations and NACE standards.
Materials
Pressure Rating
Temperature Rating
316/316L SS
3000 PSI (207 bar)
0°F to 500°F
(-18°C to 260°C)
Related Resources
Learn more about how the Saf-T-Vise Corrosion Probes can benefit your application with the following resources.
Need Something Else?
Review some other related products that could help your current application.